Sultry dark-rimmed eyes have been a beauty fascination for years. Continuously evolving and frequently updated, the look is one of the most significantly imitated beauty trends around the world. From the seasonal re-interpretations found on international catwalks to iconic beauties like Brigitte Bardot as well as a new generation of influential celebrities renowned for their trademark dark eyed look (Kim Kardashian, Victoria Beckham and most recently, Catherine, Duchess of Cambridge), it appears that classic dark-rimmed eyes are here to stay. In this issue of Beauty Guru, we recommend the most innovative and wearable products that will create the look's alluring aesthetic. From cat-eyed vixens to the most sultry, smoky eyes, the following suggestions are sure to satisfy and seduce.
Daliia Herbal

Daliia Herbal Kohl Eyeliner is perhaps one of our most exciting new finds at Beauty Guru. Comprised of a purely natural herbal formulation that actually strengthens and conditions the lashes with regular use, Daliia Kohl liner is available in five gorgeous colors based on the five Ayurvedic elements and requires no sharpening. The liner is encased in a cleverly designed protective case that's about the size of a lipstick compact, making it ideal to store in a small bag for travel or on the go. The ultra smooth formula glides on effortlessly and is an excellent choice for lining the inner rims of the lash-line, which is key for achieving the most intensely defined sultry look.
Dior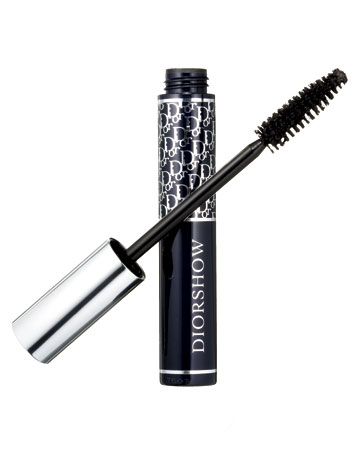 In the luxury cosmetics industry, the iconic house of Dior has built a considerable reputation for formulating some of the most popular mascaras on the market. The exclusive and highly innovative DIORSHOW mascara range includes some of the best and most professionally recommended mascara formulations available. The Diorshow Black Out and the aptly named Iconic formulas are at the top of our list of favorites, but the brand offers some of the best and most effective eye defining products including overall. Other items that will help create chic and sophisticated rimmed eyes include the Style Liner–Intense Liquid Eyeliner, Crayon Eyeliner in Black, Crayon Khol, the Smoky Design 5 Couleurs Designer Eyeshadow palette, Flash Black and the new shade #053, which is a perfect smoky grey One 1 Couleur.
Ellis Faas

Few emerging artistry brands are as influential and innovative as Ellis Faas. The artist's personal approach to modern, straightforward individual beauty has been translated into high-performance, sleek, sexy beauty implements that provide the user with a unique yet controllable application experience. The range is superior overall and Faas' eye products in particular—Creamy eyes E103 and E104, Mascara and Eyeliner—will help create a truly fresh approach to the popular dark-rimmed eye.
Lash Control

Mascara is perhaps the most indispensable of all beauty items, but dispensing the right amount with each application is crucial. Consider how much of the valuable product actually gets wiped away with each use. Lash Control has created a highly innovative color-coded squeezable tube that allows the user to accurately regulate precisely the desired amount of mascara with each use, thereby allowing for perfect, clean and clump-free application. Utilizing one of the industry's most well respected manufacturers, each of the Lash Control formulations are truly superb. Lash Control mascara receives our highest marks for innovation and specialization.
L'Oréal

L'Oréal has consistently offered some of the most effective, reliable, long-wearing and affordable products on the market. The brand's Studio Secrets Professional range boasts some of the most essential items that can be conveniently purchased almost anywhere. The HiP Professional Color Truth Eyeliner in black, in particular, is a highly pigmented, smooth and easy to apply formula that's an absolute steal at under nine dollars, and of course the iconic Voluminous Mascara has already received several mentions at Beauty Guru for being one of the best mascara formulations ever created.
MAC Cosmetics

MAC endlessly increases its popularity by continually creating innovative, artistry-inspired and iconic products that deliver consistently optimal results. If dark-rimmed eyes are your desire, no other brand offers a wider selection of products or provides personalized instructional advice to create this sexy beauty trend—whether you're going for the most demure look or the most extreme statement. Our top favorite products are Fluidline gel liner, Liquidlast Liner and Eye Kohl in Smolder, the latter of which is the essential must-have item. MAC also offers an incredible assortment of mascara formulations, including the amazing Opulash Optimum Black mascara, which is one of our best rated (and the most informative on-line mascara finder), in addition to a selection of false lashes as well as one of the most extensive brush and tool ranges available.
Nars

Few brands exemplify the influence and power of beauty more than Nars Cosmetics. With Monsieur Nars himself at the creative realm, the brand continues to evolve and grow as one of the most innovative companies in terms of sophistication and technology. Nars also produces some of the most directional and visual imagery in the highly competitive market, as was recently demonstrated in a collaborative video directed by Fabien Baron for the recent launch of the Larger Than Life Long-Wear Liner (an incredible eyeliner and one of our highest rated). The short but captivating scene illustrates a robot applying the eyeliner with the greatest precision on model Emily Baker. In addition to such visually enticing imagery, the brand continues to deliver some of the best products for creating sultry, dark-rimmed eyes, including the Larger Than Life Lengthening and Volumizing Mascaras and our favorite Night Breed eye-shadow, a rich matte black accented with silver glitter that's absolutely essential for everyone's make-up wardrobe.